Bicycle service and repairs in Banska Bystrica
The BE-CYCLES bicycle service in Banská Bystrica is located at Lazovna Street 22 (2 minutes on foot from main square). We have more than 10 years of experience in repairing bicycles.

We offer bicycle service for all types of bicycles with short deadlines and affordable prices. Our priority is a smooth ride of the client on a safe bicycle.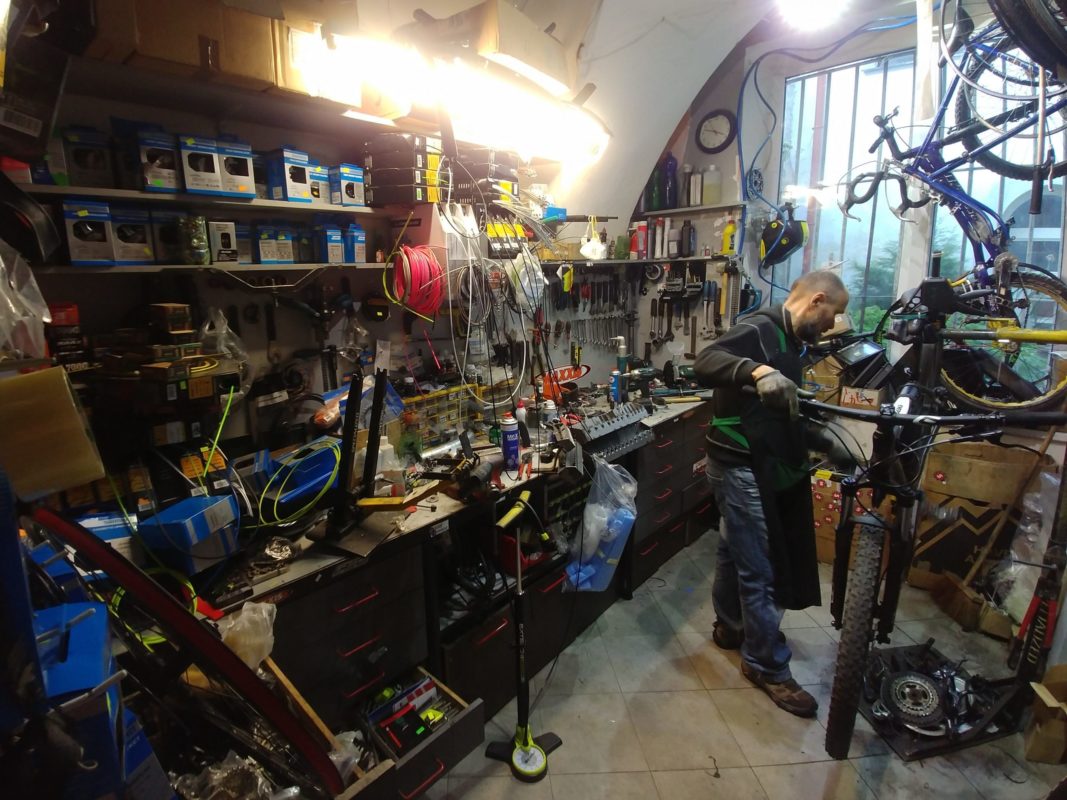 Service tasks
The list of service tasks that we perform most often (and especially those wich came to the mind when writing this text):
Individual service tasks
Complete disassembly and cleaning of the rear structure for fully-sprung bicycles
Complete replacement of bearings in the rear structure
Bearing replacement
Bowden replacement, including a new cable
Heel straightening plus its adjustment
Disassembly and assembly of the central assembly
Fork replacement plus neck shortening
Converter assembly
Chain replacement
Drive setting: brakes / derailleur / derailleur
Cleaning and lubrication of the device: chain / slider / cranks / cassette / derailleur
Chain maintenance
Thread cutting in the crank, including a new insert
Brakes
Disc brake bleed plus fluid change
Replacement of brake pads (1 pair) with adjustment
Replacing the brake disc with adjustment
Wheel Straightening
Wheels
Wheel centering
Wheel centering with strain gauge
Unraveling the wheel
Tube replacement according to the type of tube and casing
Tube replacement on an electric scooter
Filling the tip when centering the wheel
Wheel rim / hub replacement
Idle nut replacement
Disassembly / assembly of own multi-wheel
Tubeless casing assembly – tape gluing, casing assembly, valve assembly, milk filling
Other
Basic bicycle washing and lubrication
Installation of accessories such as basket, seat, handles, carrier, stand, fenders, corners, child seat…
Assembling your own bike from the box
Elektrobicykle
Bafang engine service
Bafang drive fault diagnosis
If you have a problem, do not hesitate to contact us. We will be happy to advise you and provide first-class service.